Why You Should Learn Android App Development Right Now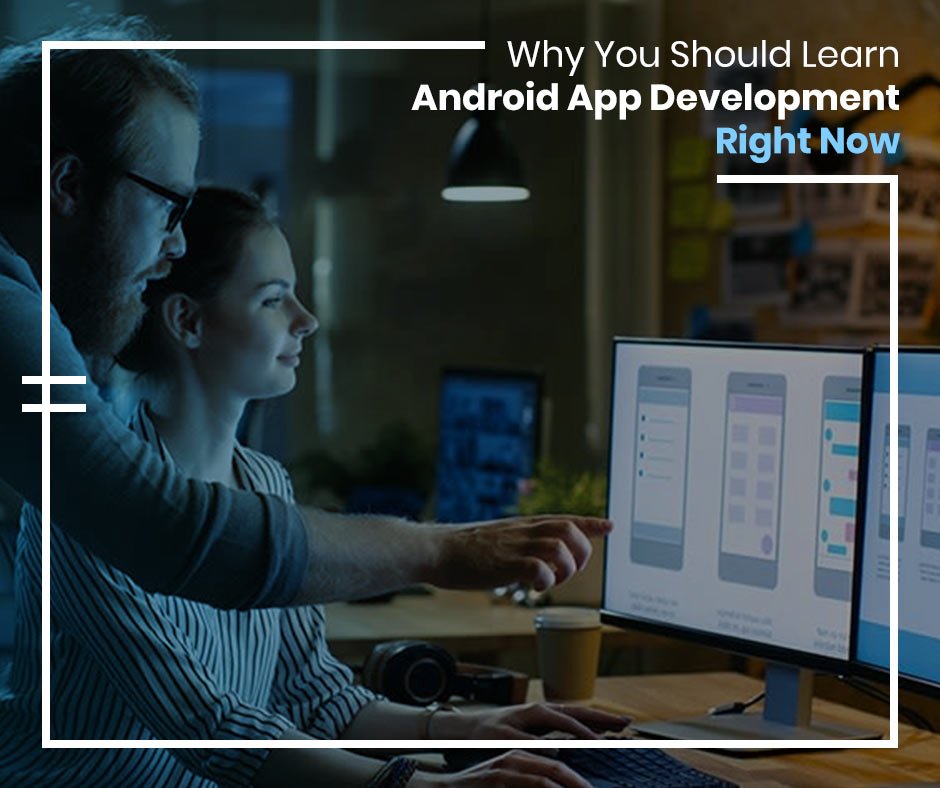 Android has been the most popular language that is used to build apps. It is the number one platform for mobile app development that utilises the Android Native Platform. Statistics shows that it has upto 87% market share and this number is expected to rise in the coming years. In this article we are going to discuss why you should learn to develop Android apps now as now is the correct time for you to step into this app development field.
In this increasingly globalized world, mobile apps have impacted us and have changed the way we conduct doing businesses, socialize as well as entertain. This worldwide connectivity has impacted us in a huge way in which the economy is being shaped, by providing them with the tools needed to create innovative ideas and distribute them in the existing app market.
This is one of the key reasons why being an Android developer is both a satisfying job and is necessary. Technology is a fast growing sector and the world economy and different companies are looking to implement new ideas in order to improve the user experience as well as to stand out of the competition.
Learning about software development and programming, user experience (UX) and user interface (UI) allows people from different educational backgrounds to build a professional profile with highly in-demand skills.
Businesses are Investing in App Development
Both the mobile usage as well as the app market are growing, and small businesses have already detected the enormous advantage of being part of this consumption trend. According to a survey made by Clutch, almost half of the small businesses that exist will be likely to have a mobile app by the end of 2020.
Apps enable both big as well as small companies to increase sales by providing a quick way to access the companies products, create engagement as well as enhance the customer experience by providing a means for the customer to directly interact with the company. It also allows businesses to be more competitive in a specific market.
Software Applications Development has been one of the most demanded and has been the best job projections for the next decade with a consistent growth rate of 18%. According to these employment projections there has been 135,300 new job positions for app development by the year 2024.
Android Developers are More Demanded
Android has proven to dominate the global smartphone operating system market share for many years now. According to a research company Gartner, in the second quarter of 2016, Android led the world smartphone sales by 86.2%
As the worlds free and open operating system, Android app developers are allowed to generate new ideas and work with a wider range of smartphones in order to open up hardware option, as well as the companies supply a great variety of devices for the customers to choose from and high end devices are becoming much more affordable.
The Job of an Android Developer
Android developers are in charge of creating effective and useful mobile applications by translating designs as well as wireframes into high quality codes. They must also ensure the best possible performance and responsiveness of the applications. According to Paysa, the average salary of Android App developers is 89K dollars ranging from 68K to 112K.
Throughout the process that is involved to create an Android app, developers are hired to work from conceptualization and design phases to the software architectural planning, coding as well as the testing phases. You require a basic as well as a solid understanding of the programming language Java and the User Experience (UX) and User Interface (UI) expertise for Front end and Back End integration as well as operation and many other skills are required.
Becoming a professional Android developer is a great educational investment as it has an excellent job positioning for the coming decade. This is by far the most used operating system today. We can be sure that Android will continue to have improvements and will continue to satisfy the growing demands of modern communications.
Conclusion:
With all the good reasons listed above you need to invest some time into developing your Android skills by learning from the android training experts. With over 10 years of Android App development course experience, and technical know-how, be equipped with the knowledge and skill that will help you tomorrow. If you are looking to learn android or looking for android training in mumbai, to get the required skills so that you can make a difference then do contact us at enquiry@nimapinfotech.com. Acquire the skills for Android app development now