How to Choose The Best College For Your Online Degree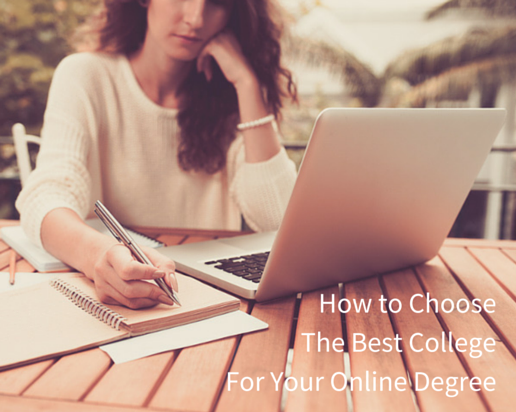 Date:

11 Jan, 2018

Posted by:

Leah Thurber

Category:

Study
If it weren't for the existence of online degree programs, many people would not be able to pursue their dreams of going to college. This is because online degree programs are flexible, and are available to students who may not have a college or university within driving distance. This is a wonderful development. Unfortunately, not all online degree programs are worth the money. Many are scam operations and diploma mills with questionable accreditation. Others charge exorbitant amounts of money for tuition and fees, leaving students in debt for years. On the other hand, a degree from a reputable online program is just as valuable as a degree you would learn attending classes on a brick and mortar campus. If you are considering online schools, here are a few things to look for.
Beware of For Profit Online Colleges
There are many reasons why you should steer clear of for profit colleges when choosing your online degree program. First, these schools are not in the business of educating students. They are in the business of turning a profit for their executives and their investors. Second, these schools have a history of deceptive recruiting practices. This includes making false promises to students about their employment outlook after graduation and their ability to transfer credits to other schools. Tuition rates are also incredibly high at the school which results in students being saddled with huge amounts of debt. In fact, the situation with these colleges and universities has gotten so bad that the federal government has begun investigating several of them for fraud. Steer clear!
Look for Local and Established Schools
If you are going to pursue an online degree, start by looking at public and private universities in your state, and at local community colleges. These schools will be established, reputable, accredited, and you will be able to pick from a variety of degree programs. You'll also have access to an adviser, be able to contact your professors, and you may even be able to use campus amenities such as the library or fitness center if you should choose to do so. Employers will recognize the degree that you earn as a valid one, and if you choose to go to another school, you credits will transfer. If you cannot find a program that works for you within your state, then you can look into out of state programs. However, the same rules apply. Look for accredited, well known schools that have established reputations for having good academic programs.
Consider Your Goals
If you have a strong desire to get your degree, or if working in your field requires it, then you should certainly follow the advice above. If, on the other hand, your goal is to develop skills or to pursue new interests, you may wish to consider taking some free online courses. Websites such as Courera, Khan Academy, and more are all part of a recent open learning initiative that make it possible to take courses online for little to no cost. Some of these courses even come from Ivy League schools.