10 Things You Would rather Do than Write Your Research Paper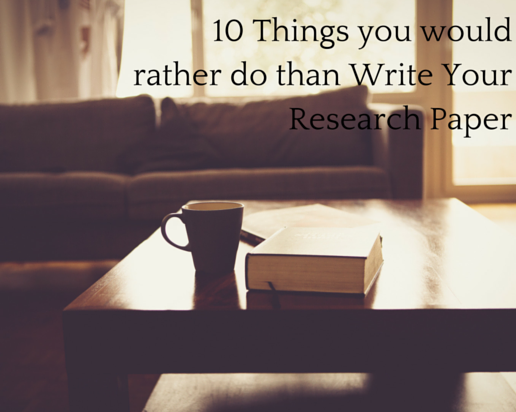 Date:

10 Feb, 2017

Posted by:

Emily Brown

Category:

Study
10 Things you would rather do than Write Your Research Paper
College midterms have recently ended, and we all know what that means; research papers. Since you have visited us that must mean that you may be considering the use of our services. If you choose to write your paper yourself, however, here are a few things you would probably rather be doing.
Binge Watching Your Favorite Show
Whether you are a fan of cartoons such as Steven Universe or science fiction shows like Doctor Who, there is a good chance that like many other people you would much rather be watching your favorite show instead of working on that research paper.
Sleep
Sleep is wonderful, sleep is great; it helps to recharge and rejuvenate the body. Please get some of the extra sleep, you deserve it. Hours of homework each night, staying up until midnight to get an assignment done when you have a class in less than 6 hours. You put your education first this whole time so you deserve all that extra sleep. Grab a pillow and a blanket and simply find a place to crash.
Eat
Whether you go to a relative's home or to your favorite restaurant, the first thing on your mind is most likely food. You might be thinking of your mother's home made chili with lots of cheese and onions, or perhaps that plate of nachos has been on your mind for quite some time. Regardless, food is important, and a lot of people would rather sit with their favorite meal than type away at a computer anytime.
Color Like you Did in Grade School
Believe it or not this made our top ten list, coloring books are no longer for kids. Many college students find coloring books to be a relaxing, and inexpensive way to pass the time. Why pay anywhere around 30$ to go to the theatre to watch a movie, when you can simply take no more than a few dollars and purchase a pack of crayons and a coloring book?
Take a Walk in The Park
The crunch of leaves under your feet, the sound of the wind rustling through the almost bare branches of the trees about you. What could be a more relaxing way to go through your day?
Visit the Zoo
Some are free, and some you may have to pay a small fee. But who doesn't think the zoo is fun? On a nice cool day nobody is going to want to go which means the perfect time to go is now! The animals are much more active in the cool weather because they don't have to find shade in place of finding ways to play.
Go Grocery Shopping
Any other day it probably seems boring and tedious, however on days where you have to stay inside and research you can't help but think about how nice it would be to simply go to your local market. Your reason may be that you notice that you're running low on your favorite snacks, or you may just want a reason to get out of the house. Either way, go out and get yourself something.
Play with Your Pets
Pets give us so much in life, happiness, warmth, and even a friendly hello at the end of the day. We all love our pets, however there are times when playtime becomes scarce and we don't give them the attention they need.
Play Video Games
As you work on that paper, you may be tempted to open that copy of "Super Smash Brothers" or "Skyrim" and have a healthy session of play time. Now, how can you even think of working on that paper when those games haven't even been opened? It's as if you can hear them calling you, isn't it?
Plan a Netflix Movie Night
Like you, your friends are probably scrambling in order to find something to do instead of that research paper. Why not break out the drinks and snacks, clean your living room a bit, and invite your friends over for a movie?
Did your favorite make the top 10? Please let us know in the comments!