Evolution of Content Marketing and a Few Trends for 2019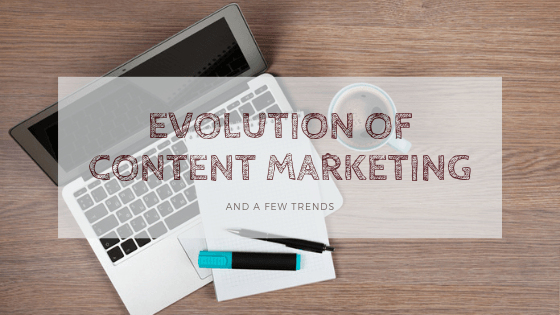 Date:

13 May, 2019

Category:

Writing
Content Marketing is no longer a hidden marketing super arsenal for marketers. In fact, it is one of the most widely used marketing tactics for businesses to promote their brand and grow their business.
It doesn`t mean that design and visuals are getting less important in terms of building up an image customer will trust. It means that content marketing as a constantly evolving field will require your attention too. That`s why it is better to stay updated with the current and upcoming trends of content marketing.
This article presents you with the most important content marketing trends that you need to stay on the lookout for in 2019.
Come, let's have a look.
Content Marketing Will Soon Be The Centre Of All Marketing Strategies
Content marketing plays an important role in today's marketing realm, especially when it concerns B2B marketing and audience engagement.
A fine-tuned content marketing helps you boost user interactions with the brand and helps you update your strategy and thus help you stay ahead of your competitors.
Actually, content marketing complements your other digital marketing efforts. It helps you boost your conversion rates thus growing your overall business sales. It helps you attract, educate, convert, and close happy customers.
A Documented Content Marketing Strategy Is A Must
Having a well-documented content marketing strategy is a must. Why? Let's take an example. Imagine you want to establish yourself as a brand name for a particular niche, then you don't go publishing content of all and any kind because that will make you "Jack Of All Trades" instead of being the "Master Of One" (being a specialist)
It is very essential for brands to spend quality time in the creation, management, and scheduling of content to proper platforms in order to get optimized and better-performing results for your marketing campaign.
For example, if you work for a real estate company, your content should include rent reports for your local industry, like this example piece of content from apartment listing company ABODO.
User-Generated Content Will Drive Your Content Marketing Strategy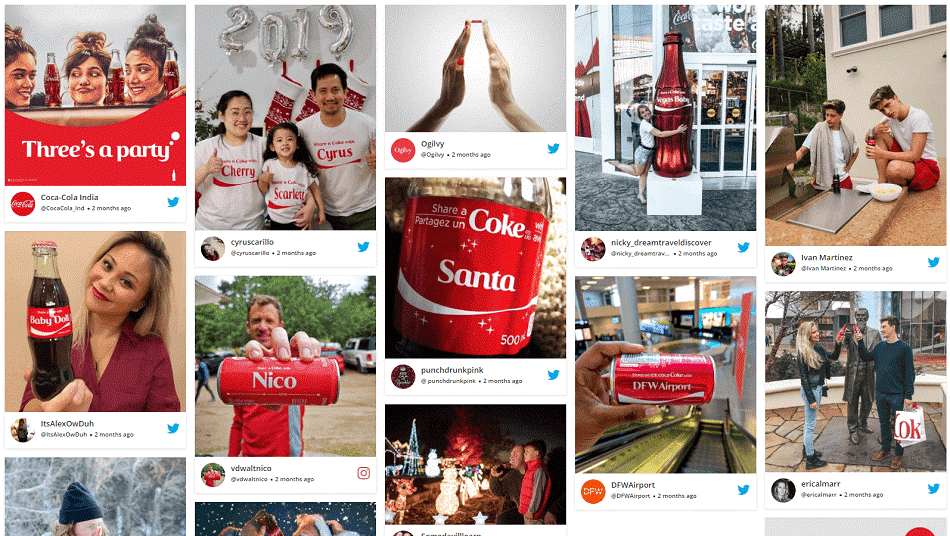 User experience is the most dynamic field. User-Generated content is the best content to market your brand to your users in the most trustworthy way.
User-Generated content is the soul of content marketing. It not only generated trust in the minds and hearts of your current and aspiring users but also helps you deliver social proof. It boosts user engagement and interaction with your brand.
Many brands have time and again employed user-generated content to boost user engagement and spread brand awareness. Brand UGC campaigns and contests have been great tactics in that respect. Users also overwhelmingly participate in these campaigns in lieu of getting featured in front of a wider audience base. Learn about online jargon, Internet acronyms, smileys and more at NetLingo.com.
The Better You Distribute Your Content, The Better Your Strategy Works
Well, that's cent percent true. The better you distribute your content across various platforms, the more expanded is your target audience reach, thus, giving you better results for your marketing strategy.
Various platforms come with their unique marketing potential and targeting capabilities. Users interact differently on different platforms. Hence, you not only get to maximize your touchpoints with your customers but also helps you tap into the various aspects of consumer behavior and interaction with your brand online.
See, you are to create content that has to travel the distance to reach the market and not the other way round. That is why content distribution and syndication has always been an important part of the digital marketing strategy.
So, instead of just social media platforms and advertisements, focus better by joining conversations happening online. This way, you can target the audience engaging with the same kind of content. In fact, the search engines will love you more if you engage in more discussions.
Another powerful tip is to align your content marketing scheme with a proper email marketing strategy. Not only will it help you reach a wider audience, but also leverage your sales. Luckily, there are plenty of such solutions. For instance, consider using mailchimp integration to reap the rewards very soon. Here are a few Mailchimp Alternatives to help you get started affordably and effectively.
Lastly, you can include a notification center in your site with new content. With a tool like Beamer you can notify your users and visitors about the latest news and updates directly in your site. As users will see the number of unread updates just for them, it has a better engagement and open rate than other traditional methods."
Content Marketing Will Help You Build Customer Relations
Content marketing definitely helps you build customer relations. Today, any aspiring customer before making any purchase decision definitely checks for online reviews and product descriptions. That's where your content plays an important role.
Actually, more than your content, it is your audience's content that plays the most important role. It is the most trusted form of marketing as your users trust your customer-generated reviews more than any brand-generated content.
It not only provides social proof for the quality of your services and products but also boosts user confidence, thus improving your customer-brand relations.
Content Marketing Helps You in ROI Measurement
Content marketing helps you measure ROI effectively. It not only helps you measure the traffic generated but also helps you measure your Google SEO ranking, count the number of potential leads generated, and many other statistics that help you analyze your content's performance and measure the ROI.
Furthermore, content marketing is directly connected to email marketing. If you think of ROI measurement, email marketing allows you to win more without spending too much time and money with marketing efforts. Email marketing is the ideal tool for a balanced return on investment as it brings back around $38 for every $1 you spend. Moreover, it is perfect to use when you want to keep your customers loyal to your brand without investing a fortune in other marketing tools which would cost you five times more. In addition, with a strong content marketing strategy, you will be able to bring back those visitors who first left their cart and abandoned your website. It is very important to keep your customers engaged and informed, and email marketing is the right tool to do so.
If you can't afford an in-house marketing team, consider outsourcing an Email Marketing Company and do not put it on a waiting list since building awareness about your business is the first thing to do. There also is an option to get use of Virtual Assistant Services that are gaining popularity.
Content Marketing Will Re-Shape the Marketing Funnel
Content marketing has long been evolving. From brand concentrated content to user experience-oriented content, the journey has been long and interesting and thanks to the benefits of content marketing, the process of re-shaping the marketing funnel still continues.
Embracing Content Marketing Trends
If you are a brand striving hard to promote your digital and online presence, then having a robust content marketing strategy will definitely help you a long way. It doesn`t matter if you decide to hire a digital marketing agency or develop a content strategy within your marketing team, the main idea here is to make it comprehensive and efficient to build better and healthier customer relations, spread brand awareness, and grow your business overall.