Content Marketing in a Glimpse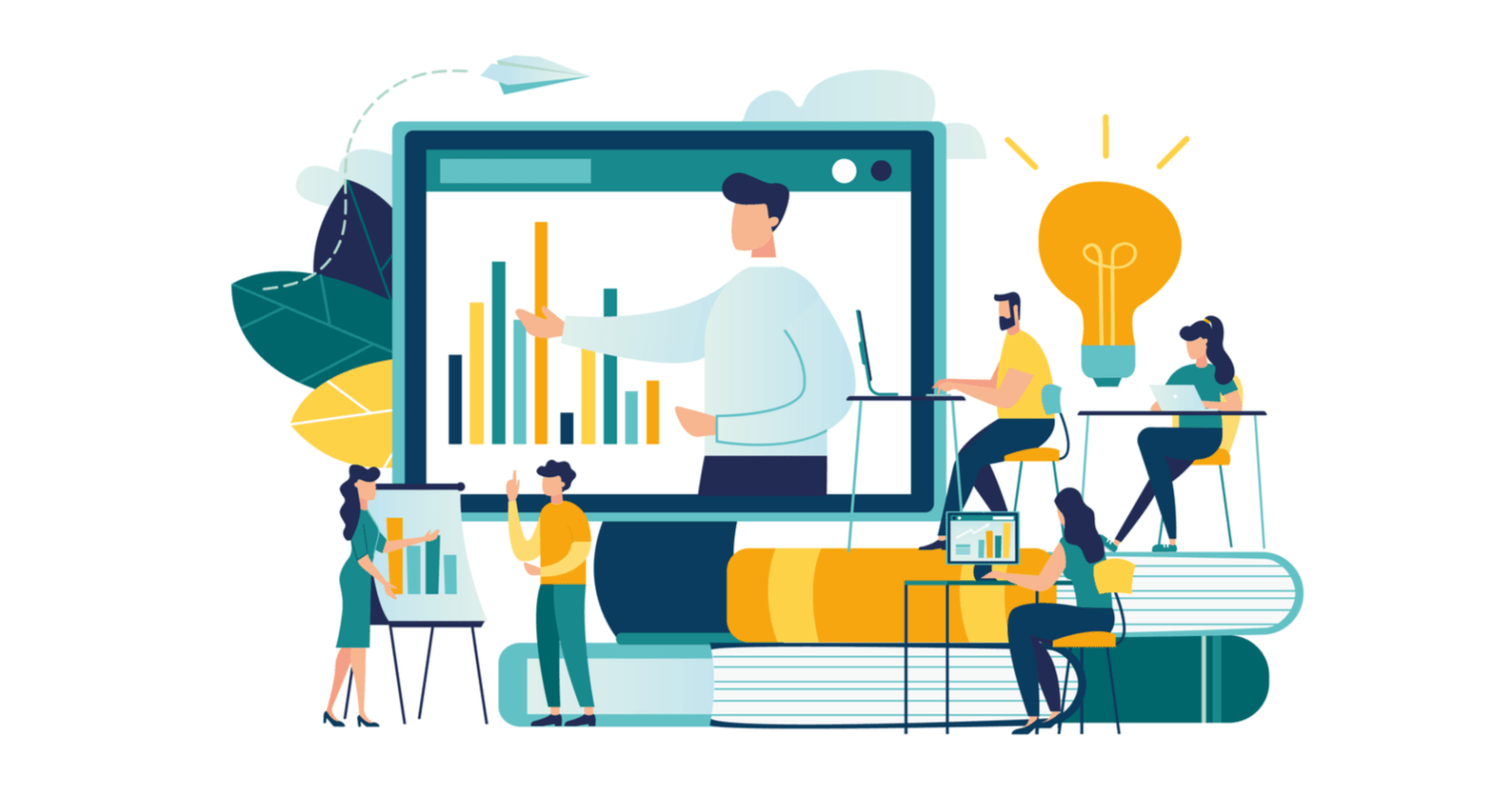 Content marketing goes far beyond producing content for blogs, websites, and social media. You need to think about the best way to distribute this content in order to increase your audience and be able to measure results.
By focusing on achieving sustainable results and attracting business opportunities organically, a content strategy is a complex and deep process, made up of different tasks, edges and tactics.
In addition, it involves various practices and fundamental actions of Content Marketing, such as SEO (search engine optimization) and the constant measurement of results through metrics.
If you want to know, more accurately, what the dynamics of this kind of strategy are like, going through their planning, execution, and analysis, take a look at the rest of this material!
In itself, what is a content strategy?
As its name reflects, it is a strategy that brings together everything related to the planning, management, development, and distribution of content, as well as the analysis of the impacts they have and the results they provide. A well-planned content marketing campaign allows you to form direct relationships with your target customers.
It is important not to confuse this methodology with traditional corporate communications, which allow you to inform about the plans, promotions, and initiatives of companies.
In fact, when it comes to content production in a Marketing plan, the focus is not on the business, but on people. Yes, this is how you read it!
And is that the objective of this strategy is, first of all, to educate the market, showing how they can solve their needs and solve their problems.
To ensure that this process, in addition to being educational, achieves the conversions of Digital Marketing in a sustainable and organic way, it must have the following stages:
planning
definition of the Buyer Persona
content creation and optimization
content distribution
analysis and metrics of results.
But what do these phases consist of and how can they be developed correctly? We will answer this fundamental question in no time!
1. The ABC of planning a content strategy
As you already know, a content strategy is much more than a process that seeks to inform what a company does or will do.
It is a comprehensive process, focused on improving brand positioning, building authority in a given market, educating it, and, of course, attracting users and generating business opportunities.
Added to these purely Marketing objectives, this strategy is a vehicle towards valuable goals for the business itself. They are between them:
market expansion
expanding the supply of goods and services
the increase in sales
and even the increase in the value of the brand.
Precisely, in the planning stage, we have to capture all these objectives that we want to achieve, as well as the practices that will allow us to achieve them and the metrics and indicators that will help us know how close or far we are from them.
Among the actions and tactics that we must specify and develop during planning, the following stand out:
Positioning in keywords of a certain market
The keywords are the words and sentences used by users to search engines like Google and Bing.
Obviously, each market segment has keywords that represent a very good opportunity for positioning in search engines and thus guarantee exposure and visibility to all content strategies.
For example, if it comes to universities, "study a career," "best careers" and "professional education" could be very good keywords.
Right content for the right people
To guarantee a good return on investment (ROI) of Content Marketing, within the planning of the strategy it is necessary to prioritize the qualification.
In other words, it is essential that we can detect which are the key issues of the market segment and, also, what kind of people can really feel interested in our products and services.
Even if your only purpose is to create engaging texts for blogs, you have to make sure that you speak in the right manner to the right audience.
This immediately brings us to the definition of the Buyer Persona.
2. How to define the Buyer Persona?
The Buyer Persona is a fundamental resource in a content strategy, since the qualification, the effectiveness of the different materials and the impact they will have on the users depend on it.
This term refers to the semi-fictional representation of the ideal client. , which goes far beyond the traditional concept of the target audience.
In fact, we could value BP as an expanded concept of the target audience, which in addition to taking into account factors such as age, location, purchasing power and level of education, focuses on much more personal aspects, such as:
preferences
worries and pains
short, medium, and long term objectives
dreams
problems
how it operates on the Internet and social platforms
perspectives, ideas, reasoning, and thoughts regarding the environment and different topics.
Collect information with the sales team
A good content strategy is one that involves different departments and areas related to the commercial sphere, such as sales and Marketing, mainly.
This teamwork must be present from the initial stages, as is the case with the creation of the Buyer Persona profile.
Therefore, it is necessary to collect and hierarchize together the information that has emerged through the interview process.
In the end, sellers are in direct and constant contact with prospects and those who have become customers, which is why they know for sure what characteristics the Buyer Persona should have.
Collect data on the behavior of the ideal customer
Here you must integrate and analyze all those data that show how the user behaves within your market segment and, also, on how you move on the Internet.
Basically, it is about condensing all the information that allows us to know where to find the potential client and how to approach it.
This can be done from surveys with the company's contact base or from specific investigations, based on public domain data such as economic reports released by the government.
Organize the information obtained and create the profile
This step can be valued as the personification of all the information obtained.
It consists of taking the data and translating it into a spreadsheet or an editing document to start structuring the Buyer Persona.
To make this process easier, organized, and agile, we can use a predefined template like the one provided by our tool to generate Buyer People, which is free. With it, you can download a PDF file to record the information!
In addition to complying with all these steps to define the BP, before producing a content stream, it is important to define what stage of the conversion funnel the ideal client is in.
As can be seen in the following image, this funnel is made up of the stages of attraction, consideration, and decision.
The attraction stage, which can be considered the entry stage, demands the education of the BP. Then, upon reaching the consideration phase, it is time to explain in detail the utility of a business alternative and how it helps or meets needs.
Meanwhile, in the decision phase, we can use content such as success stories that end up convincing the user to make the purchase or subscription.
In these contents you will see the best practices of content production for each stage of the conversion funnel:
funnel bottom
funnel medium
top of the funnel.
3. Key points of content creation and optimization
We come to content production! Having done solid planning and defined the Buyer Persona, we might think that at this stage we are already very advanced, but there is still a lot of work to do!
The first point, when it comes to content planning, is to determine which formats will be used, and that's when the relevance of the corporate blog comes into play.
The blog is the backbone of a content strategy, due to its flexibility, interactivity and, logically, it is immediately associated with the brand itself.
Within it, we can publish both traditional texts (blog posts, e-books) as infographics, videos, and even podcasts or audios.
Also, it allows you to work on resources such as links to Landing Pages, quizzes, and different interactive content.
As for the content formats, newsletter, segmented emails by free email sender, nutrition flows, and other email marketing materials, they must always be present.
Now that you know the main content formats, we will explain the key aspects to create and optimize them:
Keyword research
As we already mentioned, this is a key step to ensure the exposure of a content strategy.
Today, search engines like Google are the channels that connect users with the products and services they need, so having a privileged position in their results lists is very important.
This research work can be done from platforms like SEMRush and Answer the Public. These provide data on the search behavior of each keyword and report on the variations of each one in the different markets.
The bases for good Keyword Research are the understanding of the market segment and, also, the user's intention, which we will expand immediately.
Analysis of user intention
It is nothing more than evaluating in detail how the user interacts on the Internet and the digital world in general.
For search engines, analyzing user intent means, among other things, determining what kind of keywords you use frequently and for what purpose you search.
To evaluate this aspect, free tools such as Google Search Console are of great help, since they present data on the queries that users make in Google to reach a website.
For example, on our " software types " page the main terms searched by users to access it are shown in the Google Search Console report below:
And the results page itself offers valuable insights to define the content structure.
Taking into account that Google positions well the results closest to the user's intention, you can analyze them to understand what type of information your content must present to be considered relevant by the search engine.
A more detailed analysis of the SERP also provides interesting data for the definition of content, in resources such as:
Related questions
Related searches
Google AutoComplete
Image Search
Writing and publishing content according to SEO criteria
It consists of the production of content taking into account all those factors that search engine value to position a page.
Its preparation and launch are much more than clicking the "post entry" button of a certain CMS platform.
If your blog is hosted on WordPress, you have to install the Yoast SEO plugin, which gives you information about the optimizations you must do to make your content friendly to the search engine.
Even SEO work includes technical work that improves a site in terms of download speed, intuitiveness, and user experience.
In addition to using the right keywords and strategically distributing them, practices such as acquiring backlinks are also key to positioning, as well as original content and the accuracy of your information.
This closing stage is linked to the content distribution tasks, which at the end of the day are key to connecting with the Buyer Persona.
Keep reading and understand what we are talking about!
4. Distribution of content: which channels to use?
Once the content is produced following SEO best practices, it is important that it is distributed through the channels in which the potential client is located.
In addition, certain aspects related to distribution influence organic positioning, as they allow search engines to notice the relevance of the content.
Without further ado, here are some of the most valuable channels for promoting content:
Email Marketing
Nutrition flows and newsletters are channels that allow establishing a direct line of communication with the user and promoting personalized and close interaction.
Social networks
It is more than clear that social networks are a valuable channel for all Content Marketing Strategy and Digital Marketing in general.
Networks like Facebook and Instagram group millions of users from different corners of the world, so making invitations and publications on them, referring to certain content, can significantly increase its exposure.
Backlinks
Inserting external or internal links within a certain content contributes to its authority and adds value to the user.
But even more important is to ensure that the content we publish is cited and linked by other portals, which in turn will become distribution channels.
Do not forget that these are also especially important for SEO since our articles and materials are taken into account by other portals is a reflection that they are informative, educational and of quality, which is quickly detected by search engines.
Imagine how good it would be if your website received a link from a large newspaper in your country, for example. This is a powerful resource to generate authority in the eyes of Google and have your website positioned at the top.
Other types of external links that bring great benefits to web positioning are those of educational and government institutions, so you should achieve them.
The number of backlinks your website has can be monitored in tools like SEMRush and Ahrefs, which show which website sends the link to your website and to which specific page it is directed.
5. Analysis, metrics and results: the keys to a scalable content strategy
From the beginning of planning a content strategy, those metrics that will be useful to evaluate the results must be established.
And is that scalability depends on these indicators, that is, the ability for the strategy to grow and constantly lead us to new goals and objectives.
Now, finally, it is time to explain what are the metrics to take into account and what are they about.
Attention!
ROI
Logically, this is a fundamental indicator. Knowing how long the money spent on the strategy will recover and how positive the investment will be is the basic step to determine profitability and, if necessary, make adjustments.
Traffic generation
Traffic is all those visits to the blog, both organically and through paid ads, as well as the opening rate of emails, direct message displays and even referrals.
This data can be analyzed in depth with Google Analytics, a free tool from the company to monitor websites.
So you can know which are the best sources of traffic for your blog, which raises valuable data to guide your actions in content strategy.
If your direct traffic is very high, that indicates that you already have a consolidated audience, due to the fact that the user searches for your domain immediately.
On the other hand, if your Social traffic is low, it is a sign that your content strategy should focus on the generation of materials aimed at increasing your presence on social networks.
The truth is that a well-made content strategy has positive repercussions in all channels since there is a chain of impulses to the digital positioning of a brand.
Engagement
The engagement is a metric that really determines the scope of the strategy, beyond visits or clicks, which can sometimes be "artificial".
This concept refers to the penetration and connection that content generates in users. To determine it, it is necessary to mainly evaluate interactions, comments and reactions.
Social networks are an ideal thermometer to measure engagement because they are the platforms where people are more open to communicating, share opinions and expose their perspectives.
This indicator can be accompanied by tools such as Buzzsumo, which provides data on brand mentions and the types of interaction of social network users with publications.
SEO positioning
It is a set of metrics that encompass indexed keywords, top-ranked search engines, and the kinds of queries that drive traffic to the web (CTR).
In the case of CTR or Click Through Rate, it refers to the click-through rate generated by both a paid ad and an organically positioned page.
Since Google is the most popular and used search engine, to evaluate everything related to SEO positioning, it is advisable to use its tools, such as Google Search Console and Google Analytics.
The main factors to analyze are:
number of keywords positioned in Google
Organic CTR of the pages
terms used by users to find a page
search volume of each keyword.
Author Bio - Aabhas is a digital marketer and freelance writer and is a passionate email marketer. With so much hype about the leakage of your personal information via email account hacks, he teaches how to send most secure emails through his blog www.smtpservers.co